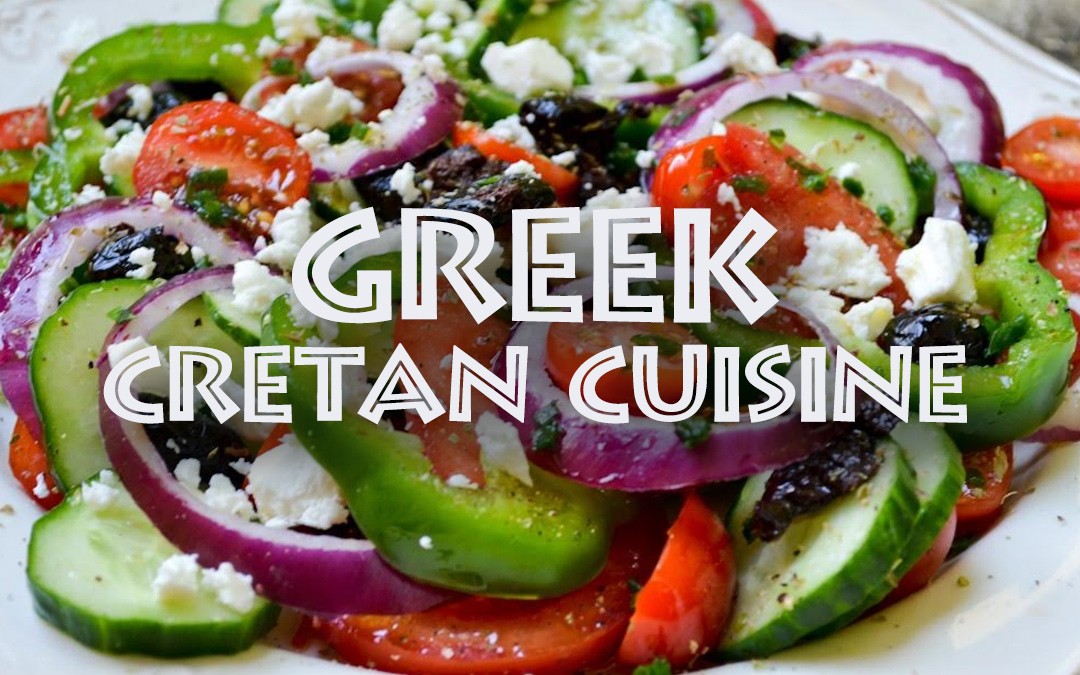 Chania stands out for its hospitality, always welcoming those who choose to stay in the city either as guests or as longer-term residents.
This place is known for its nutritional wealth generously provided by nature, which the locals are always happy to offer to and share with guests. A simple tasting of the Cretan dishes will urge the one unfamiliar with Cretan flavors to learn more about the raw materials used in their preparation and about the way they are cooked.
If you are searching for local delights that would satisfy even the most selective connoisseur, then you just discovered your own little paradise.
Experience the authentic Cretan cuisine that has gained acclaim as one of the healthiest diets in the world.
Its secret lies in the fine quality of its fresh ingredients and intoxicating herbs and spices.
The renowned Cretan olive oil is also known as 'liquid gold', while the island's vegetables, like tomatoes and peppers, stand out for their mind-blowing taste.
The wide variety of Cretan cheeses like "graviera," "myzithra" and "staka," provide a solid reason why Crete comes first in world cheese consumption.
If we also add the famous Cretan wines and the typical local spirit "raki," what could one expect more from a gastronomic paradise?

Among the many local recipes and delicacies, the absolute must dishes in Crete, are
Dakos –
This one is a no-brainer. Though you can eat dakos virtually anywhere in Greece, this simple meze should be top of the list when you set foot in Crete. Though its name may vary from one region to another – some call it koukouvagia – dakos is a light yet filling salad based on barley rusks, or paximadi. These are lightly soaked in water or olive oil to soften them, and topped with grated fresh tomato and myzithra, a creamy sheep or goat cheese. For the final touch, virgin olive oil is sprinkled on the dakos, with a pinch of salt, pepper and oregano.
Kalitsounia-
Kalitsounia are small pies mainly made with cheese though available in a variety of options, including a sweet one. The savoury version involves a phyllo paste and can include different ingredients such as spinach and horta (local greens). For the sweet version, rosewater, cinnamon and sugar are added to the filling. Highly appreciated throughout the year, they deserve to be tried when you get a chance.
Gamopilafo –
If you know a little bit of Greek, then you might have guessed what gamopilafo is. A combination of gamos – the Greek word for wedding – and pilaf, gamopilafo is a rice dish traditionally eaten at Cretan weddings. Nowadays however, the dish can be found in many tavernas on the island. Somewhat similar to a risotto, the dish is made with rice cooked in a meat broth with a dash of lemon juice and butter. The result is a rich, creamy dish you will easily fall in love with.


Apaki –
Apaki is smoked and salted pork meat. Left to marinate for two or three days in a strong vinegar, the meat is then smoked with aromatic herbs and spices. Apaki can be cooked and eaten on its own or added to omelets, legumes, vegetables or salads.
Chaniotiko Boureki –
Typically from Chania, the chaniotiko boureki is a simple yet tasty zucchini and potato pie. Also called kolokithoboureko (from kolokythi, pumpkin or zucchini), chaniotiko boureki includes zucchini, potatoes and myzithra cheese, covered by a sheet of pastry.
Lamb with stamnagathi –
In Crete, stamnagathi is everywhere. This wild green is the equivalent of spinach and it is credited by Cretans to be the reason for their good health. Usually boiled and savored with a dash of olive oil and lemon, they perfectly complement meat and particularly lamb. The combination features in many tavernas, including top-end restaurants.
Sfakianes pites –
These delicious 'pies' are from the southern coastal region of Sfakia and may best be described as cheese-stuffed pancakes, although you may also find fillings of "horta" (local greens) as well. The dough includes raki and olive oil and once it is filled and spread, it is lightly fried in a pan, just like a pancake.
..and after the meals always a frozen raki
Raki –
You cannot go to Crete and not try raki, the local version of tsipouro. This strong spirit is a pomace brandy made from grapes, served in tavernas and kafeneia (coffee houses). Called tsikoudia in certain regions of Crete, raki is to be drunk from a shot glass without any water added. It is the perfect drink to accompany mezes.